Archives by date
You are browsing the site archives by date.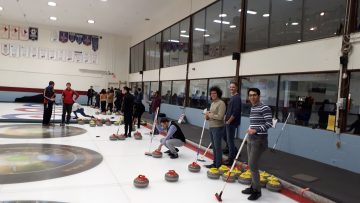 By kevin golovin on December 24, 2019
The OPERA Lab challenged Dr. Zarifi's MEAS Lab to a curling contest for the holidays. There was brushing, bruising, and lots of laughing by all. A re-match is guaranteed for 2020, and perhaps next year we'll keep score!
By kevin golovin on December 9, 2019
We are pleased to welcome Dr. Anu Pillai to the OPERA Lab. Dr. Pillai will be coordinating our Eminence Fund Cluster in Comfort Enabling Technologies, as well as overseeing the project developing antimicrobial fabrics. We are very glad to have you Anu!
By kevin golovin on December 9, 2019
The OPERA Lab was awarded a UBC Eminence Fund for our Cluster of Research Excellence in Comfort-Enabling Technologies! This award is bringing together a handful of faculty and several industrial and municipal partners, with the following mission: This diverse team of researchers is working collaboratively with industrial partners to enhance human comfort in extreme and […]