Archives by date
You are browsing the site archives by date.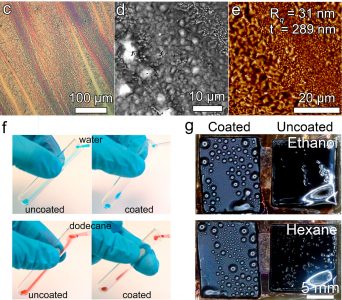 By kevin golovin on March 26, 2018
Matt's work on fabricating low hysteresis, omniphobic surfaces is now published! Check it out here. This is the first report of omniphobic surfaces that can repel essentially all liquids without relying of fragile micro-texture or lubrication. Durability-wise, these surfaces maintain their liquid repellency far better than any other state-of-the-art coating!
By kevin golovin on March 7, 2018
Dr. Golovin will be presenting at the ACS Spring 2018 meeting in New Orleans. His talk will be from 2:20 – 2:45 on Wednesday, March 21st, in La Galerie 4 (New Orleans Marriott Canal Street). He'll be discussing the latest work on icephobic polymers, this publication. All are welcome! Students interested in joining Dr. Golovin's group […]
By kevin golovin on March 7, 2018
Prof. Golovin wins the ProQuest Distinguished Dissertation Award from the University of Michigan. More information here: http://www.mse.engin.umich.edu/about/news/kevin-golovin-selected-to-receive-coveted-proquest-distinguished-dissertation-award-for-2017
By kevin golovin on March 7, 2018
The Golovin group is always looking for highly motivated students. If you are interested in joining the group, please send Dr. Golovin a cover letter and your CV, and let him know if you require funding. Postdoctoral scholars should also include a brief description of a potential project.